What does the development plan say?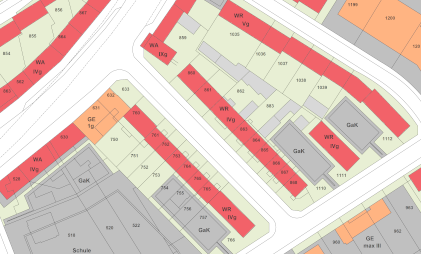 Basically, all regulations related to the construction of buildings on the plot can be found in the development plan. An important point is the distance to neighboring properties and public areas, as well as to one's own property line. This is because it is not permitted under any circumstances to build right up to the property line - even if the neighbor is quite a distance away. The construction method is defined in the development plan and provides information on whether the property can be built on in an open or closed manner. If you buy a building plot with mandatory open construction, it is not possible to build a terraced or semi-detached house without a lateral boundary distance.
The type of building usage, which is also an important part of the B Plan, becomes especially interesting for buyers who want to combine living and working.
In a purely residential area, the opening of a craft business may be prohibited, which means that you will not receive permission for commercial construction. The degree of building usage is specified with the ground area number and the floor area number. In addition, there are details on the building limits, building lines and the roof form as well as the building load.