Design "Black"
Expressive representations determine marketing success in many industries. Our classic is the floor plan design "Black". This design fits perfectly into every exposé and every individual corporate design. The walls are shown solid black with white rooms and filigree fixtures as well as furniture if necessary. This design is timeless and offers the prospective buyer a good impression of the offered property at first sight.
For exposé designs that already have black as a basic theme, this design is usually the best choice.
Design "Black and white"
In this floor plan design we have implemented the minimalist black and white theme for you. Compared to the "Black" design, here the walls are filled in subtle white. This makes the entire floor plan look lighter and the walls are less dominant. The entire floor plan is thus more friendly, while at the same time it is harder to distinguish it from the fixtures and furniture.
If your exposé is already colorful or has a design where a lighter floor plan blends in better, we recommend this floor plan design. We do not recommend adding furniture with this design, as clarity suffers greatly with this layout.
Design "Grey"
Even if the name of the floor plan design does not reveal it at first glance, the "Gray" design is our most colorful variant.
Analogous to the floor plan design "Black", the walls are filled in a modern shade of gray. The fixtures and furniture are very well highlighted by the black and white design. At the same time, the rooms are colored in beautiful and calm pastel shades according to their intended purpose. We have attached great importance to the fact that the colors of the individual rooms are coordinated with each other. Living and dining rooms have a subtle beige, and bedrooms and children's rooms have a light blue. Rooms such as the kitchen, bathroom, hallway or terraces and balconies are in a light shade of gray. At the same time, the lettering, the north and entrance arrows and the scale are colored in the same gray as the walls.
The "Furniture" option
For all floor plan designs you have the option to order a floor plan without and with furniture.
For this we have a set of black and white furniture. If you have specific ideas about which furniture should go in which room, feel free to note this directly in your floor plan template. We will then implement this accordingly. If you do not give us any information and want furniture, we will try to accommodate the following furniture per room:
We have clearly prepared the biggest differences and similarities in the following table:
| Area | Option |
| --- | --- |
| Kitchen | Table with chairs |
| Living room | Sofa, sideboard, flowers (if necessary dining table with chairs) |
| Balcony and terrace | Outdoor chairs |
| Bedroom | Double or single bed, sideboard, plant (bedside tables if necessary) |
The "Kitchen and bathroom equipment" option
If you activate this option, we will draw in the corresponding rooms the equipment elements for bathrooms (bathtub, shower, sink and toilet) and for the kitchen (sink, hob, worktop and cabinets).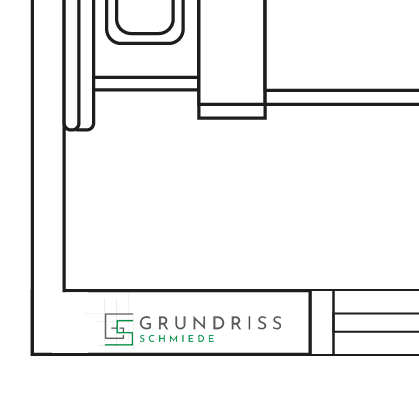 The other options: Special characters
If your floor plan provides information such as the orientation of the property or a scale, we will incorporate this into your floor plan in the appropriate design. This gives your prospective buyers an even better impression of the property.
In general, we have the possibility to implement the following special characters:
North Arrow
Scale
Entrance arrow
Watermark
Your logo
Text blocks
Floor
Legal notice
No suitable design for you?
You already have concrete ideas how your floor plan should look like?
You would prefer a combination of several designs?
You would like to have a floor plan that matches your corporate design?
No problem! We would be happy to create a customized design for you according to your wishes. Please contact us!
Customized floor plans