Why choose sales-optimized floor plan?
Complete your exposé and real estate ads with an optimized floor plan. For contemporary and sales-optimized floor plans, we have developed three designs for you: Black, Black and White, and Gray. With each design, you also have the possibility, additional options and features to be integrated, such as kitchen and bathroom features, furniture, north arrow and much more.
Many real estate ads do not have a floor plan at all. This makes it very difficult for potential buyers to find out about the room layout of the of the apartment or house and to decide whether the property is basically suitable. It is better to integrate available floor plans into the exosé. Sometimes you are lucky and the floor plans are already up to date and well prepared. Most of the time, however, the existing plans are from the older construction age or the building plans are made by the architect of the property, which make it difficult for a potential buyer to find his wayaround them. But even if the plans already look good, it makes sense to have them revised. After all, they should fit perfectly into your exposé or advertisement and thus reflect your brand and your expertise.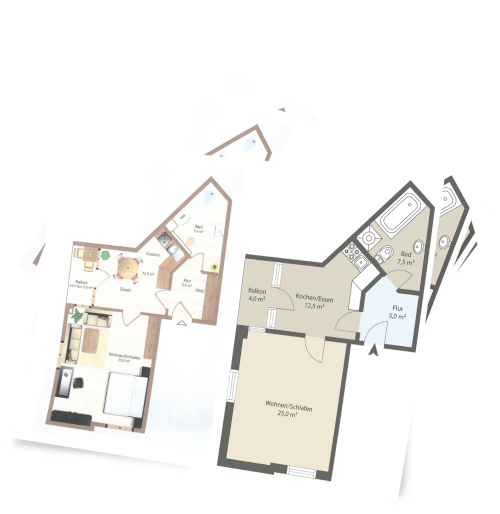 24 hours delivery
Monday to Friday we deliver your ready floor plans within 24 hours
Floor plan in your design
Choose from our templates or discuss your individual design with us
Image enhancement
Complete your exposés with a first-class floor plan and show an even higher level of competence
Package prices
Cost-effective packages for ease of use in your everyday life
Customer area
Login area with all created floor plans is permanently available to you free of charge
Overview
Modern and clear design so that you can have your optimized floor plans created even faster
Business customer
Private customer
With Grundriss Schmiede
For maximum success
Round out your exposé and real estate listings with an optimized floor plan
Optimize now