Blueprint or floor plan? Both are important!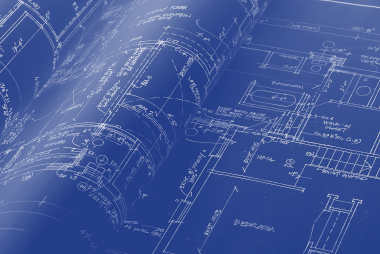 The blueprint is, historically, the basis for the floor plan. It is a blueprint created for the creation of buildings or products. So what does this have to do with AutoCAD? And why blue? In the past, the papers on which technical drawings were recorded or created were coated with a chemical. This dyed the paper and the light irradiation blue. There, where the coated areas were covered, the paper remained white. So the drawing itself was created from white lines on a background that colored itself blue - and that's why the technical drawings are called blueprints to this day. With AutoCAD, of course, we create drawings in any line color on a white or custom background. Nevertheless, the name blueprint has been preserved.
On the basis of the blueprint we can create detailed drawings of floors, floor plans of apartments with and without furnishings, but also diagrams, side views and detailed drawings. We also realize this with the help of AutoCAD. With AutoCAD it is possible to develop the floor plan from the data of the blueprint: From the bird's-eye view you can see the building or the apartment together with the exact position of walls, furniture and installations. The dimensions are included, so you get an accurate picture of the property.